Thing from the Draculoid tee all done up by Zex.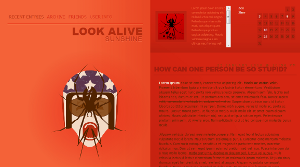 Preview Image.
layout by
sulfuricfusion @
yearzeta
Dangerverse: Draculoid
(Flexible Squares lyt for Blue Gray)
Browser:
Firefox, Opera, Safari, Chrome, IE.


Screen:
Percent-based. The Draculoid on 800x600 is a little bit cut off, but it's still aesthetically pleasing. Larger screens are better.


Credits:
Icons from Some Random Dude and graphic from Zex.


Notes:
Inspired by Draculoid tee and the graphic Zex made for it. Part of the Dangerverse series of layouts.

*Ngl, the ads on this piss me off. A lot. So... on the comment and calendar pages, the top ads might be hidden. Kind of. If you find those pages screwed up (or if the ad shows up on your recent entries page), let me know and I'll tear my hair out cry a little bit see what I can do to fix it.
*Userpics on entries are hidden. I am not willing to change this. At all.


To Use:
1. Go to the customize page and type "Flexible Squares" into the search box.
2. Select the theme "Blue Gray." (This is important.)
3. Click customize your theme, then the custom CSS link.
4. Set both dropdown menus to NO, and leave the external stylesheet option empty.
5. Paste the code in the Custom Stylesheet space.


Code:
Preview Image.




In the (entirely possible) case that you find a bug or error in this (see above in the notes section), please let me know and I'll see what I can do.
Also, if you liked or use, please tell me!
And if you used, please link to
yearzeta in either your profile or sidebar.