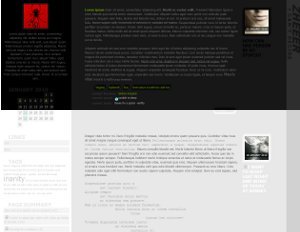 Large previews for Shade & Illumination.
featuring: custom icons, sidebar, comment page, an a (slightly screwy) calendar page
layout by
sulfuricfusion @
yearzeta
Shade/Illumination
(Flexible Squares lyt for Blue Gray)
Browser:
Firefox, Opera, Safari, Chrome, IE.
But, uhm. I don't like to think about IE. It does (funnier) things to the calendar page and the stupid scrollbar at the bottom is really sensitive. Considering it's IE, though, I'm counting it as a win.


Screen:
Mish-mash of percent and fixed-width. I recomment 1024x768+, but it's not too bad in lower.


Credits:
Icons from Some Random Dude.


Notes:
Remember my layout block? Yeah. The dam is broken.
The only thing I feel the need to point out are the calendar pages. No matter what browser, they're... weird. (More so in IE.) It shouldn't be detrimental towards the general usage of the layout, unless you're super picky about that thing.
Also! The headers were rotated. Unfortunately, they disappear in IE. Fine in all other browsers, though.


To Use:
1. Go to the customize page and type "Flexible Squares" into the search box.
2. Select the theme "Blue Gray." (This is important.)
3. Click customize your theme, then the custom CSS link.
4. Set both dropdown menus to NO, and leave the external stylesheet option empty.
5. Paste the code in the Custom Stylesheet space.


Code:
Shade



Illumination.


In the (completely plausible) case that you find a bug in this, please let me know and I'll see what I can do. Beyond the calendar pages thing.
Also, if you liked or use, please tell me!
And if you used, please link to
yearzeta
in either your profile or sidebar.